Spring Cleaning Checklist for Every Room in Your House
---
Truffle's simple spring cleaning checklist
for every room in your house.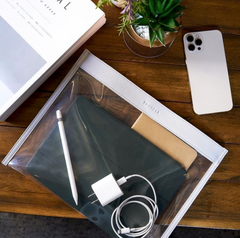 The first day of Spring is here! And we know that with Spring comes a purge to get ourselves and our homes ready for a new season. Get your pens, pencils, and stylus' ready, because we're going to share a simple spring cleaning checklist for every room in your house. 
Kitchens Need Purging, Too
When spring cleaning rolls around, the first thing most people think of are closets. This year, we're going to tackle the kitchen! Remember that big clunky ice cream maker you purchased five years ago and used only once? You don't need it (and you're probably dairy-free). What about the juicer that takes up a whole shelf and got you through your juice cleanse phase? Time to move that to the garage, too. Keep only what you use on a regular basis, and donate or move to storage those items that you don't. 
While we know we have all gone mostly digital, we don't want to get rid of all of grandma's original recipes. Stash all of your paper recipes together in a clear Clarity Tech Clutch. Not only are they protected from moisture and stains, but they are also easily visible and labeled! Take it one step further and categorize everything according to holiday, dish, or ingredient to make finding them that much easier. 
Bathroom Next
In a day and age of product overload, we can truly get overwhelmed with the amount of products we actually end up with. We know what products we use on a regular basis, and what products we bought because they would look pretty on our vanity. For our spring cleaning bathroom checklist, the goal is to keep only what you use (be honest). Beauty products have a shelf life too, and you should toss anything you haven't used in the past year.
For those products that you use regularly, store them in a delightful Clarity Pouch Large or Clarity Pouch Small for easy access. Going on a last-minute weekend getaway? Just snag your clear makeup bag and pack it up. 
Office and Bedroom
Often when you want to tackle some Spring cleaning, the bedroom closet and office spaces are the first places to start. A great way to let your closets breathe is to store your off-season clothes in our Clarity Packing Cube Trio. You can make room for this season's styles while keeping your winter sweaters safe and tidy (and out of the way). If you have limited space, check out our ideas for small home offices to see how you can keep it organized and functional. If you don't know where to start when tackling your bedroom closets, learn more about how decluttering externally can help declutter internally.
Digital Decluttering
Most of us think that a digital spring cleaning checklist is totally unnecessary, considering the main point of tech is to combine a multitude of uses into one smaller item. However, we all love our 'techcessories' that come along with our devices. These tech accessories include cords, extra batteries for cameras, chargers, and memory cards. The Clarity Tech Clutch was made for this purpose, quite literally. Consolidate and organize all of your tech accessories into one clear clutch so you can see everything and take it with you when you're on the go. The Clarity Clutch Large is also a great option for organizing large, bulky chargers and headphones. Happy truffling.
Share