A Look Inside Truffle
The journey of clearly sophisticated organization.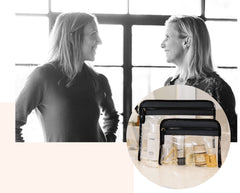 Female-Owned, Women-Led
Our Story
Maria & Sarah have been friends and business partners for over two decades. Their journey as entrepreneurs began early into motherhood, frustrated from constantly digging around in their everyday bags to search for loose crayons, lipsticks, and pacifiers. It was then they realized the need for clear, high-quality, chic organizers that were not readily available in the marketplace. Truffle was born with the goal of effortless organization for women on the go. Our multi-purpose styles are designed for travel, stadium and concert outings, and the places that everyday life takes you.
Beautifully designed, eco-conscious bags
Quality + Sustainability
We want all women to be able to show up anywhere, effortlessly put together, while fostering a more conscious way to stay organized. Beyond eliminating single-use plastic, we are committed to creating our Truffles with recycled and biodegradable materials that are safer for both you and the environment.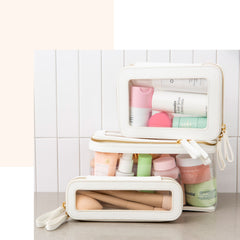 The Evolution of our Brand
How will you Truffle?
As our company grew, it became clear that our chic, transparent bags served a myriad of purposes for all
women on the go. Whether jet setting, commuting, or hitting the town, our number one goal is to make you feel effortlessly put together. We started with just one bag in four colors and expanded our styles to address all the ways women want to carry their essentials. Our goal is to be your must-have companion, wherever you're off to.
"Truffle was inspired by our love of handbags and frustration with the cluttered chaos that inevitably evolves inside of them. Our mission: to reimagine the way we carry our everyday essentials." - Maria & Sarah, Co-Founders