NEW! This ultra-lightweight nylon toiletry bag is perfect for organizing toiletries when traveling. With two interior compartments and a removable zippered pouch, it's the perfect catch-all for your toothbrush & toothpaste, deodorant, contacts, Q-tips, and bobbi pins. Coated for easy cleaning. 
8 1/2" W X 3" H X 5 3/4" D
Teflon coated rPet Nylon with PU trim
Gold metal zip closure
Interior slip pocket
Removeable zippered pouch
Imported
What material is this Stowaway Case made of?

Is the stowaway nylon case TSA-approved?

What are the best uses for this Stowaway Case?

What can I fit in this nylon toiletry bag?

What colors does the Stowaway Case come in?

How do you clean a nylon makeup case?
The Perfect Truffle For...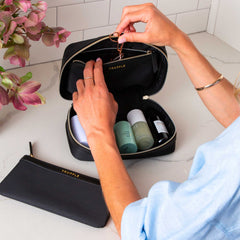 Beauty Must-Haves

Lipstick
Brushes
Mascara
Hair Ties

Everyday Essentials

Keys
Credit Cards
Hand Sanitizer
Band-Aids

Toiletries

Toothbrush
Toothpaste
Bobby Pins
Tweezers