The 2021 Truffle Gift Guide
---
Give the gift of clear delight to every woman in your life—even the woman who already has it all.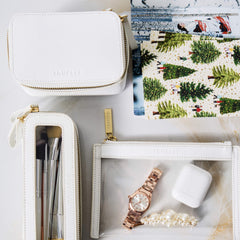 Nothing says happy holidays like the feeling of being effortlessly put together. And with responsibly sourced materials that last, Truffle is the thoughtful gift that keeps on giving, year after year. Here's how to make this season Merry and Clear for every woman in your life.

The Avid Traveler

She's been everywhere—her passport has so many stamps, it looks like a scrapbook. But you can make her next trip unforgettable, from the moment she packs her bags, to the day she returns.

A see-through packing cube set, the Packing Cube Trio is her ticket to travel bliss, keeping her favorite jeans, lighter cashmeres, and smaller clothing items neat, separate, and easy to see so that she can assemble the perfect outfit without having to unfold everything. For toiletries, she simply can't go wrong with the Privacy Essentials Pouch Set (and yes, this makeup bag set comes with two sizes for all toiletry needs). Next, the airport—a total breeze because she's got her passport, itineraries and other important documents in her Clarity Clutch Large. And for exploring new cities, the Clarity Convertible Belt Bag will neatly store her phone, wallet, and favorite lipstick while she's on the go. For more tips on gifting a jetsetter, check out our Gifts for Travel Seekers.


The Supermom

No one is more impressive at balancing work and home life like The Supermom—so why shouldn't she have the Truffles to match her powers?

Give The Supermom the gift of lightning speed—when she keeps her purse organized with the Clarity Mini Jetset Case, she'll never miss a beat. On her way out the door to pick up the kids, a Clarity Clutch Small is the chic way to keep her keys, wallet and go-to lipstick close in a small clutch purse. And for keeping everything together when parenting becomes unpredictable (it will), the Clarity Crossbody Carryall is as adaptable as it is sexy.


The Clean Beauty Queen

She's got the look—every look—and never compromises on beauty options. So the perfect gifts for the beauty queen in your life? The ones that let her keep all her essentials together, all the time.

For storing her most coveted makeup, there's the Clarity Jumbo Jetset Case (it even has a separate compartment to store brushes safely). For must-haves on the go, the Clarity Clutch Small is ideal for keeping small items together, so no more getting lost at the bottom of her bag. For bringing the whole vanity wherever she goes, the Clarity Jumbo Train Case is the chic companion that will never come up short. For more tips on gifting to the beauty queen, check out our top picks for Gifts for the Glam Girl.


The Woman Who Has It All

What to give the woman who already thinks of everything? Well, we've thought of everything—like the Vanity Pouch Set, to keep her must-haves together in her bag. The Privacy Essentials Pouch Set and Privacy Jewelry Case Mini make stowing her toiletries and valuables elegantly easy. And when it comes to the Clarity Clutch Large, she simply can't have too many large clutches.
Stocking Stuffers

We'll say it: Our ideal stocking is a Truffle—a clear statement that you know how to give a unique gift with a purpose. But whether you hang a Truffle from the mantle, or nestle them under the tree, having a few extra stocking stuffers to give is a great way to ensure the holidays are full of cheer. To round out your holiday shopping, we recommend:

Clarity Mini Jetset Case, for small items kept close in a tote.
Clarity Clutch Mini, for transferring keys, earbuds and lipstick from bag to bag.
Privacy Card Case, for cards, cash and love notes.
Clarity Wristlet, for phones, card cases and other small essentials.
Clarity Pouch Small, for all beauty must-haves.
Share