It's pouch perfection! Elevate your organization routine with this sleek set of four sustainable, wipeable, chic nylon pouches that can be slipped neatly inside a Clarity Clutch, tossed in a tote, or stowed in your carry-on or checked luggage. The largest pouch bag is padded to protect your tech/tablets. Designed to complement your clear Truffle clutches and cases.
Large Pouch w/ external slip pocket (padded to protect tablets and tech accessories)
11 1/2" L x 8" H

Medium Pouch w/ external slip pocket
9 1/2" L x 6" H

Small Pouch
7" L x 4 1/2" H

Mini Pouch
8" L x 3" H

Teflon coated rPet Nylon exterior
Teflon coated rPet Nylon interior lining
Recycled leather trim
Nylon zip closure
Imported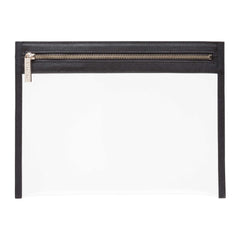 The Perfect Truffle For...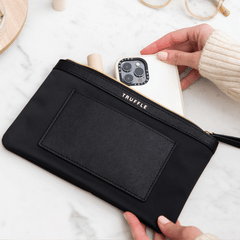 Tech On-The-Go

Air Pods
iPhone
Portable Charger
Apple Pencil

Everyday Essentials

Keys
Credit Cards
Hand Sanitizer
Band-Aids

Pair with Other Truffles

Clarity Carryall
Clarity Clutch
Card Case
Clarity Pouches