It's pouch perfection! Elevate your organization routine with this sleek set of four sustainable, wipeable, chic nylon pouches that can be slipped neatly inside a Clarity Clutch, tossed in a tote, or stowed in your carry-on or checked luggage. The largest pouch bag is padded to protect your tech/tablets. Designed to complement your clear Truffle clutches and cases.
Large Pouch w/ external slip pocket (padded to protect tablets and tech accessories)
11 1/2" L x 8" H

Medium Pouch w/ external slip pocket
9 1/2" L x 6" H

Small Pouch
7" L x 4 1/2" H

Mini Pouch
8" L x 3" H

Teflon coated rPet Nylon exterior
Teflon coated rPet Nylon interior lining
Recycled leather trim
Nylon zip closure
Imported
More about Privacy Multi-Tasking Pouch Set

What can fit in the nylon zippered pouches?

What is the 4-piece pouch set made from?

Is the large nylon pouch safe for tech or tablets?

Can these nylon zippered pouches be paired with other Truffle bags or cases?

What colors do the nylon travel pouches come in?

How easy is it to clean the multi-purpose nylon pouch set?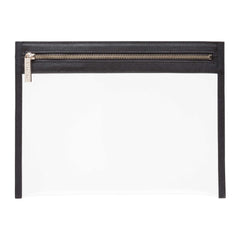 The Perfect Truffle For...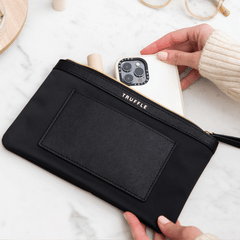 Tech On-The-Go

Air Pods
iPhone
Portable Charger
Apple Pencil

Everyday Essentials

Keys
Credit Cards
Hand Sanitizer
Band-Aids

Pair with Other Truffles

Clarity Carryall
Clarity Clutch
Card Case
Clarity Pouches