The perfect mini leather bag to stow your must-have beauty items, tech and smaller essentials when you travel. The Mini Jetset makes packing for a getaway absolutely seamless and doubles as a clear catch-all for your everyday handbag or work tote.
7 1/2" W X 2" H X 2 1/2" D
Eco-friendly, biodegradable, solvent-free TPU
Saffiano leather trim
Gold-plated double pull zip closure
TSA-approved for 3-1-1 Liquids Rule
Imported
More about Clarity Mini Jetset Case

What material is this small travel makeup case made of?

Is this small clear travel makeup case TSA-approved?

What colors does the Mini Clarity Jetset Case come in?

What can I fit in this mini leather bag?

How can I clean my Truffle Clarity Mini Jetset Case?

How many Cadence Capsules fit in the Mini Jetset Case?
Not Sure What Size To Pick?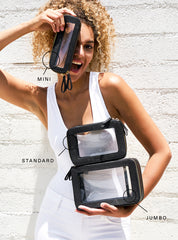 Our compact pencil-case style for storing your smaller beauty and tech essentials.

Shop It

Dimensions compare to a quart size bag and adheres to the 3-1-1 TSA liquids rule.

Shop It

Clarity Jumbo Jetset Case

Our largest Jetset case with two zippered compartments for organizing your beauty essentials or stowing in your checked luggage.

Shop It
The Perfect Truffle For...
Beauty Must-Haves

Lipstick
Brushes
Mascara
Hair Ties

Everyday Essentials

Keys
Credit Cards
Hand Sanitizer
Band-Aids

Toiletries

Toothbrush
Toothpaste
Bobby Pins
Tweezers