Go hands-free with our versatile clear crossbody bag, now featuring a zippered closure! With a 1.5" gusset, it is perfect for carrying your everyday essentials and is stadium and concert compliant.
10.5" W X 11" H X 1.5" D
Two interior 5" x 5" slip pockets
Adjustable strap with 28" drop
Eco-friendly, biodegradable, solvent-free TPU
Saffiano leather trim
Zipper closure
Stadium compliant
Imported
More about Clarity Crossbody Carryall

What material is this clear crossbody bag made of?

What are the best uses for this clear carryall bag?

What colors does the Clarity Crossbody Carryall Bag come in?

What can I fit in this carryall handbag?

Is the Truffle Clarity Crossbody Bag stadium compliant?

Is the Clarity Crossbody Carryall waterproof?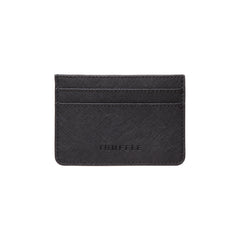 Not Sure What Size To Pick?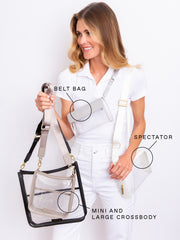 Clarity Convertible Belt Bag

This sweet little versatile bag can be worn multiple ways: around your waist, as a crossbody, or strapless as a clutch.

Shop It

Clarity Mini Crossbody Carryall

Clarity Crossbody Carryall

Our largest clear crossbody bag for carrying all your game day and concert essentials.

Shop It
The Perfect Truffle For...
Everyday Essentials

Keys
Credit Cards
Hand Sanitizer
Band-Aids

Game Day + Concert

Keys
Credit Card
iPhone
Driver's License

Playdates

Snacks
Band-Aids
Kleenex
Aspirin Packets

Pair with Other Truffles

Clarity Carryall
Clarity Clutch
Card Case
Clarity Pouches
Not Sure What Size to Pick?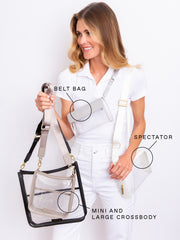 Clarity Crossbody Carryall

Our largest clear crossbody bag for carrying all your game day and concert essentials.

Shop It

Clarity Mini Crossbody Carryall

Clarity Convertible Belt Bag

This sweet little versatile bag can be worn multiple ways: around your waist, as a crossbody, or strapless as a clutch.

Shop It