What is a Train Case: Tried, True, & Timeless
---
Beauty on and off the tracks. Get acquainted with the most versatile—and time-honored—bag we know: the Train Case.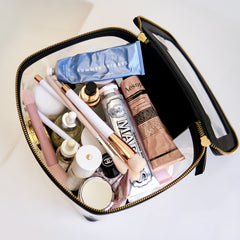 Not many beauty items used today have a rich history, other than the classic Train Case, of course. Learn more about this beauty must-have, its history, and why we love it so much. 
What is a Train Case?
To begin, it's a self-explanatory term—a case you bring with you on the train—and it's quite common in beauty circles. But there's more than one reason this popular beauty essential has been a fixture of cosmetic storage for more than a century. Let us break down why we think the Clarity Train Case deserves a little extra time under the spotlight. 
Rich History
The Train Case is aptly named, as it rose to prominence with the advent of train travel. Travelers covering long distances needed a place where they could reach their cosmetics, toiletries and other vanity essentials that was separate from their larger pieces of luggage, which would often be stowed away and unreachable. So as more people traveled far and wide by train, more people made it a point to bring a train case along. And as people prioritized this one bag that would always be within reach—and out in the open—they put more effort into designing train cases that were as stylish as they were useful. It's this simple fact that inspired us to design our very own clear train case. 
What is a Train Case Used For
?
Train Cases are useful no matter your method of travel—obviously, people of the modern world get from point A to B in a myriad of ways. But the true beauty of the train case is its utility beyond the locomotive. Is your trip over? Sure. But has your train case stopped being the best way to keep all of your cosmetic essentials organized, and in one convenient place? Of course not. It's the perfect case to sit atop any vanity, dresser or even desk. 
The Truffle Difference
We designed our very own clear cosmetic train case. But because we're Truffle, ours stands out—with its sleek, clear-panel design, it boasts not only functionality and versatility, but also clarity. It's our largest case, and something we truly can't imagine living without—whether we're on a train, plane, sailboat or at home. 
Share