3 Summer Weekend Getaways + What to Pack
---
Our top three picks for mini summer vacations, complete with our full itinerary recommendations.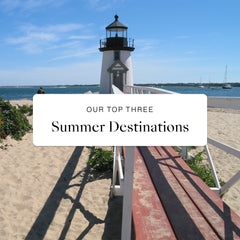 If you're anything like us and using this summer to make up for lost travel time, quick weekend jaunts are the perfect way to recharge and hit refresh. You get to experience a welcome change of scenery without the ordeal of planning a bigger international trip. And oh what a difference just a few days can make! Wherever you travel, Truffles are a must-have for organizing your essentials and making packing effortless. They're an easy way to upgrade your travel style and make even the shortest vacations feel special.
These are our top three picks for mini summer vacations, complete with our recommendations for activities, accommodations, and packing lists. We did the research so all you need to do is pick a weekend, grab your Truffle, and go!
The Beach Town: Nantucket, MA
This New England escape off the coast of Cape Cod has a charming small-town feel that's rich with maritime history. Soft sandy beaches and quaint cottages provide a picturesque backdrop for exploration. And, as of May 29th, all COVID restrictions are lifted.
WHAT TO PACK
Clarity Tote and Clarity Clutch (Small) 
Keep all your accessories organized and your makeup and skincare spill-proof in our Clarity Clutch and toss it in our Clarity Tote when heading to this summer weekend getaway.
Clarity Packing Cube Trio
Going from beach to barside will require lots of looks. Wondering what to pack for this weekend trip? Save space and err on the side of efficiency with these clear packing cubes. 
WHERE TO STAY
A waterfront resort steps from Children's Beach, the Brant Point Lighthouse, and Nantucket Town.
Located in the heart of downtown Nantucket and close to all the action—galleries, restaurants, boutiques, and more.
WHERE TO EAT (& DRINK)
Originally a clam shack, this Nantucket landmark is now a culinary destination with a seasonal menu of fresh seafood and 5,000-bottle wine cellar.
A chic sushi and bistro restaurant specializing in cuisines from the 41st parallel. ("Lola" stands for longitude and latitude.)
Founded in 1995, Cisco Brewers is Nantucket's first and only craft brewery. Its open-air beer garden is the perfect setting to connect over a pint.
WHAT TO DO 
Clean sand and clear waters make Surfside one of Nantucket's most popular beaches. Parking is easily accessible and, if you're lucky, you may even spot some sea lions.
This cliff walk takes you off the beaten path and through the backyards of Nantucket's quintessentially quaint homes. Enjoy gorgeous ocean views the whole way!
Cruise Nantucket Bay while taking in breathtaking scenery aboard the Wauwinet Lady. This complimentary water shuttle service runs several times a day but be sure to make reservations.
 

Outdoor Adventure: Lake Powell, Utah
If fresh air, open sky, and adventure are your MO for a weekend away, Lake Powell is the destination for you. It's the second largest man-made lake in the U.S. and the surrounding town is home to scenic red rock trails and high mountain forests. 
WHAT TO PACK
The best roadside assistant in our opinion, perfect for all your summer weekend getaways.  
Just the right size for tossing in your backpack before heading out for an adventure. 
Perfect for fitting your Clarity Pouches and more. 
WHERE TO STAY
This retreat is embedded seamlessly into the red rock cliffs and has all the spa and wellness amenities you need for the ultimate self-care weekend.
A 600-acre luxury hideaway deep within the canyons of Canyon Point makes the perfect secluded escape.
WHERE TO EAT
Sitting at the edge of a canyon, this eclectic Pacific Rim restaurant and bar offers unparalleled views of Lake Powell and Glen Canyon Dam.
Relaxed atmosphere, retro vibes, and amazingly delicious brisket and ribs. You'll feel like you managed to squeeze in a Texas getaway too.
WHAT TO DO 
Hiking in Zion requires some planning ahead, but trust us, the views are worth it. The most popular trails include Angels Landing, The Narrows, and many others.
If you're looking to give your legs a break from hiking, rent a kayak and prepare for breathtaking canyon views. 
Experience the sweeping Utah desert on horseback. Did we mention the views? It's a theme here.
Summer City: Charleston, SC
A popular destination for bridal parties and bachelorettes, Charleston is known for its Southern hospitality, ornate architecture, and lush gardens. Let's not forget the eclectic art, food, and style scenes that are sure to inspire repeat visits.
WHAT TO PACK
With all the walking you'll surely be doing, this hands-free bag is a must-have for carrying your essentials.
Keep your important cards tucked away and safe for care-free travel.
Save space in your suitcase and maximize organization with these Clarity Cubes.   
WHERE TO STAY
Come for the incredible mid century architecture, stay for the convenience of being close to all the shopping and dining in downtown Charleston.
A boutique hotel that beautifully reflects its historic downtown location beside cobblestone streets and brightly colored row houses.
WHERE TO EAT (& DRINK)
A Southern restaurant with French, Italian, and Spanish influences featuring a seasonal menu of pizza, pasta, small plates, and a raw bar.
The perfect casual neighborhood spot to grab breakfast or enjoy a brunch cocktail on the patio.
This popular oyster bar combines Southern hospitality with coastal charm. If you can't swing reservations, we highly recommend dining at the bar.
WHAT TO DO
Link up with a local tour guide and stroll through the city to get a historic view of the surrounding architecture and sights.
A great way to cool off indoors from the summer heat while also gaining important insight into Charleston's history. 
Take a break from the bustle of the city proper and travel just 16 miles away to this expansive shoreline.
If you love the outdoors, Kiwah Island is a must-see. It boasts 10 miles of beaches, preserved maritime forests, sand dunes, marshes, and more.
Share