This small clear makeup bag features a wide zip opening for easy access and is trimmed in wipeable TPU coated rPet nylon for quick cleaning. It's perfect for stowing your coveted beauty essentials and travel-sized bottles.
9" L X 7" H X 2" W
Eco-friendly, biodegradable, solvent-free TPU
TPU-coated durable, wipeable, eco-friendly rPET nylon (100% post-consumer recycled plastic)
Vegan leather trim
Durable plastic zip closure
TSA-approved for 3-1-1 Liquids Rule
Imported
More about Clarity Pouch Small

What material is this small transparent makeup bag made of?

Is this small clear makeup bag TSA-approved?

What colors does the Clarity Pouch Small come in?

What can I fit in this small clear makeup bag?

Does the clear part of this clear small makeup bag get cloudy over time?

Is the Clarity Pouch Small waterproof?
Not Sure What Size To Pick?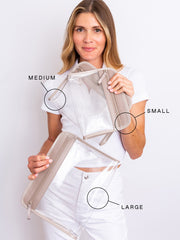 Dimensions compare to a quart size bag and adheres to the 3-1-1 TSA liquids rule.

Shop It

Stash sunscreen and beauty balms or tidy your tech cords and back-up batteries.

Shop It

Our roomiest pouch for packing full size bottles, tubes and brushes and can be chicly stowed in a beach bag or checked luggage.

Shop It
The Perfect Truffle For...
Beauty Must-Haves

Lipstick
Brushes
Mascara
Hair Ties

Toiletries

Toothbrush
Toothpaste
Bobby Pins
Tweezers

Travel Carry On Liquids

Shampoo
Conditioner
Face Cream
Deodorant